It is important to use the right type of timber for the your joinery project and ensure the wood comes from well-managed, sustainable sources. Joinery businesses need to know how each timber species or type will perform both in the workshop and also in the final project.
There are a number of sources of information that can help joinery businesses make the right choice and meet the demands of their customers. Your timber supplier should also be able to provide detailed information on the characteristics of the wood that you plan to purchase, including whether it is Chain of Custody cerfified.

Performance of different timber species and types
As a supporter of Wood Campus, BWF has worked with other organisations such as the Timber Trade Federation to provide advice on a number of timber related topics. Here you can find information on the main types of timber species and their attributes including strength, durability, treatability and moisture movement.
The quality, durability and aesthetic appearance of timber is created by the growth conditions. Features which appeal to the customer can also on occasions create unusual results during use which should be taken into consideration by end users.
BWF has written advice that you can access on factors which may affect the performance or appearance of timber products after they have left the manufacturer. A table identifying some of the species and how they are affected is also included.

Health & safety guidance on using some types of wood in the workshop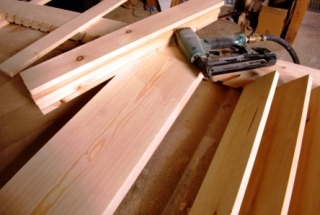 The occupational health risks from using wood in the workshop can all be controlled using appropriate Personal Protective Equipment (PPE), Respiratory Protective Equipment (RPE) and dust extraction (LEV) which woodworking businesses should have in place.
Wood dust can cause asthma when breathed in and both hardwood and softwood dusts have a Workplace Exposure Limit (WEL) of 5mg/m3 (correct as of April 2018) which must not be exceeded. High risk woods for causing asthma include some hardwoods such as Iroko and softwoods such as Western Red Cedar. Skin conditions and other industrial diseases can be a product of a career of being exposed to some some species of wood in the workshop without adequate protection.
Here HSE have provided some information for employers and operatives on any reported adverse health effects associated with working with the more common woods used in commercial quantities within the UK. This will help you take suitable precautions so that you are aware of and can avoid or minimise their ill-health effects.

How legal and sustainable is your timber?
Again this is something that your suppliers can assist with. The BWF Code of Conduct draws attention to the importance of using timber which is responsibly sourced and if you are bringing in timber products directly from outside the EU, your business will be mandated to assess and mitigate the risk of using illegal timber before purchase. BWF has produced an EUTR due diligence guide toolkit that can help you here.
Care should therefore be taken to ensure you are only supplied with timber from legal and sustainable sources.
NEPCon has produced accessible online forestry risk assessments for a number of countries that you can access.
Friends of the Earth also provide information to help establish whether timber may be from endangered trees, or from a sustainable source.
If you are importing timber, it is worth regularly reviewing your sources to ensure that they are accurate and up to date.
The Convention on International Trade in Endangered Species of Wild Fauna and Flora (CITES) is a global response to concern over the trade of endangered species. CITES lists threatened or endangered wood species under three classifications, known as the Appendices. The restrictions on trade within these appendices vary depending on the extent to which the species is threatened with extinction. Here you can find links to valuable and regularly updated information on CITES listed species.

Further information
BWF members can ring our technical helpline and we will try to answer any question relating to the topics above. You can also get information through industry bodies such as the Timber Trade Federation, TRADA and Wood Campus. TRADA's Wood Species database contains the physical properties and illustrations of more than 150 commercial species and the Wood Campus website can provide guidance on the softwood and hardwood species and grades used in everyday joinery and a summary of the different mouldings available.