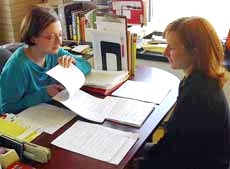 What to do when you have used your own internal process are not finding a way forward in a dispute:
BWF has worked with RICS to develop an Alternative Dispute Resolution process to support members. This is designed to offer a quicker and cheaper alternative to the court system when disputes cannot be resolved between the consumer and the business directly. The main driver for establishing the services is that BWF members can signpost their customer to a surveyor who knows the products and markets.
You can find the BWF/RICS Consumer Mediation Dispute Scheme forms here: www.bwf.org.uk/publications/general-business-support

How else can BWF help resolve a dispute between a member and a customer?

In addition to this and the comprehensive legal and technical support package available for BWF members, we can also help consumers who have a dispute with a BWF member company with a free correspondence based service whereby we will endeavour to reconcile dissatisfied consumers with member companies. A consumer is defined as a private individual who has entered into a contract with a member, and has not made the contract in the course of a business.

While BWF Primary members must meet certain criteria to join, the membership in itself does not offer any guarantee on the individual products. This service covers joinery products manufactured in the UK by current Manufacturing members (primary members) of the BWF or BWF Stair Scheme. It does not cover Associate, Affiliate or Overseas members of the BWF.

Below are examples of areas where the BWF is not able to assist:-

• We are unable to assist if the trader/company has ceased to be a member of the BWF.
• We are unable to assist with disputes that do not relate to joinery products manufactured by BWF members.
• We are not responsible for paying compensation or making a financial award.
• We cannot become involved if either party has commenced legal proceedings or employed/involved a third party to resolve the dispute for example a Solicitor, Trading Standards or another trade body.
• We are unable to offer site inspections as part of this service but subject to agreement with the BWF member, we may be able to help provide independent technical experts with extensive experience in the joinery industry. There is a charge for this service. Upon agreement we may also be able to provide more general technical assistance, but this will be charged at non-member rates.
• Where the product or work in question has been manufactured or carried out more than 4 years ago.
• Where the product or work in question has been manufactured or carried out outside of the UK.

What can BWF do?

The BWF has a process for managing complaints against a Member. Upon receipt of your completed form, we will pass the relevant details from your form to our member. The member has 14 days to respond to the BWF.
If you require general consumer advice you are advised to contact the Citizens' Advice Consumer Helpline on 08454 04 05 06 or click here to visit the website.

Both adjudication and mediation are services independent to BWF. We therefore have no responsibility for these services and their outcome. You can of course consider court action.



The BWF monitors the conduct of its members and members are expected to adhere to the BWF Code of Conduct. We can if appropriate refer the Member's conduct to the BWF Code of Conduct Committee for consideration for breaches of our Rules/Code of Practice. This is an internal matter between the BWF and its member.

If you have read and understood the above guidance and now wish to make a complaint against a member of the BWF, then please begin the procedure by downloading the form below.

LINK TO MEMBER DISPUTE FORM

The BWF is committed to providing quality services for the benefit of all users. However violence, aggression, abuse (be it psychological, physical, sexual or verbal) bullying, harassment or intimidation will not be tolerated against members of staff under any circumstances. The BWF reserves the right to withdraw any services and individuals could be reported to the police.

It is crucial to reveal companies that are undermining core standards laid down in the CPR or Building Regs to ensure that bad practice does not undermine wider perceptions of the UK Woodworking Sector. BWF members help to do so by using the BWF non-conformance form: http://www.bwf.org.uk/publications/technical-1