The BWF ToolKit is the hub of information and support that every woodworking company needs to help them run their business.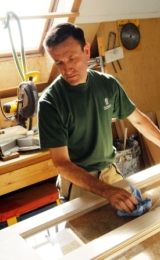 In this section you'll find a full list of all of our services that are there to support our members. Most of the ToolKit is free to access for member companies and we offer a range of additional services, which we call our ToolKit+ (formally Total Support Services), which members can access at special discounted rates.

The ToolKit is separated into different categories to help you easily navigate around the areas of support you want to access. The areas of support we offer through the ToolKit are:

CE Marking – Helping window and external door manufacturers comply with their obligations under the Construction Product Regulation (CPR) to CE mark these products, including support for Factory Production Control (FPC), Declaration of Performance (DoP)and labelling.

EU Timber Regulation (EUTR) – Offering support and assistance to help woodworking companies comply with new rules requiring them to ensure they are only using legally sourced timber in their manufacturing.

Product Energy Performance – A suite of services to help joinery firms of all sizes comply with building regulations for thermal transmittance, which includes our basic U-value calculation service, U-Value simulations and full Window Energy Ratings (WERs).

Technical Woodworking Support – By far our most used member service, our technical support for industry is often seen as an extension of every member's staff team. Our support includes the technical helpline, product specific guidance, building regulations support, a consultancy service for disputes and more.

Health & Safety – Offering tailored support to deal with the stringent health & safety requirements placed on our industry, including a woodworking-specific health & safety guide, machine safety cards, template documents, a helpline and a company audit service to ensure woodworking firms are meeting their requirements.

Business Support – we mustn't forget joinery firms are businesses, and our business support services help woodworking firms run their businesses more effectively including guidance on employment, legal and tax issues – including a helpline; a credit checking service and grant/finance finding search facility; tailored insurance deals; and our Code of Conduct guide, providing a suite of resources to help businesses run professionally and smoothly.

Environmental and Waste Management – Our industry uses the most sustainable resource in the world and our environmental and waste management support services help our members reduce waste in procurement, production and disposal; chain of custody certification, including FSC or PEFC; ISO 14001 environmental quality management; and life cycle assessment.

Quality Management – Helping woodworking firms run their manufacturing processes more efficiently using factory production control (FPC) or formal ISO9001 quality management accreditation required for some tenders and fire door certification.

Certification and Testing – We offer a range of services to help joinery firms raise their game through product testing and formal accreditation or certification for windows, fire doors and stairs.

Market Research – Our market research helps woodworking companies plan for future growth, and our resources include research conducted directly by the BWF on woodworking issues and from our affiliated bodies such as the Construction Products Association (CPA) looking at wider industry data.

Use our simple member selector tool