Since 2012, the British Woodworking Federation has been working with the Fire Sector Federation (FSF) to shape future policy and strategy relating to the UK Fire Sector. Over the last few months, we have participated in a new committee within the FSF that has been developing a survey to focus and quantify the fire and construction industries' views about the future of Approved Document B (Fire Safety).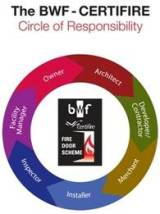 The FSF commissioned NBS Research, an independent research organisation, in March 2017, to conduct the research that is carried out in accordance with the Market Research Society Code of Conduct. Along with a 12-person strong Steering Group, the FSF planned for its launch in June 2017.
Given recent events, this research has taken on an additional importance and poignancy. We appreciate that this is a sensitive time, however, this survey will be used as an important and collective tool to gather specific feedback and views on the practical guidance in Approved Document B to meet the fire safety requirements of the Building Regulations in England.
We will be responding on behalf of the woodworking sector, and in this context are seeking members' views on 5 key questions. Your answers will also help drive our response to the independent review of building regulations and fire safety that government has recently announced. Could we ask you to provide your comments on the following by 21st August to hannah.mansell@bwf.org.uk. We will analyse all the comments and draw together in our response.
a) What do you think should be the target audience for Approved Document B?
b) Does the way that the guidance is presented make it easy for this audience to follow and understand?
c) Do you have any comments regarding the way that the performance of fire door assemblies (which includes assemblies supplied as doorsets or kits) is assessed and verified?
d) Do you have any comments regarding the way that the fire performance of staircases is assessed and verified?
e) Do you have any other suggestions that could improve how the guidance in Approved Document B is presented?
The survey findings will be analysed by NBS and the FSF. It will form the basis of a submission to the DCLG to help those responsible for making sure Building Regulations and AD B are as effective as possible.
All information related to Building Regulations is disseminated via our newsletter, at regional and technical working group meetings, at our Members Day and via webinars. Specific information related to products is included in the Technical Woodworking Support section.