In the future new council homes in Powys will be built and fitted out using local, sustainable wood materials. As part of the Homegrown Homes initiative Powys County Council's Cabinet have adopted the Wood Encouragement Policy which looks to make better use of natural resources and create local employment opportunities.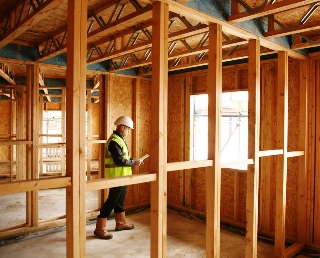 The Wood Encouragement Policy sets out that all new Council housing projects will look to use wood as the preferred material for both construction and fit out purposes. This pioneering approach has been developed as part of the Homegrown Homes Partnership which was set up to encourage forestry and product manufacturing, retain and create new jobs and build better, and more energy efficient houses.
Cllr Rosemarie Harris, Cabinet member for Housing comments: "Adopting the Wood Encouragement Policy today demonstrates our support for the Homegrown Homes project, highlights local timber as a sustainable building product and recognises the value of the forestry and timber industry to the economy of Powys.
"The forest and wood products industry is extremely important to employment and economic development in rural areas and the Homegrown Homes project provides a great opportunity for us to lead the way to help build a skilled, resilient and sustainable county."
Woodknowledge Wales, champions the development of wood-based industries for increased prosperity and well-being in Wales and have provided support on this Powys project.
Tabitha Binding of Woodknowledge Wales says: "We are delighted to support Powys County Council to deliver this exciting and unique timber sector development project. Powys, as Wales' largest county has ample land for timber production, existing sawmill capacity and a track record of timber framed manufacturing. This is a fantastic opportunity to develop and expand the forestry, wood processing and timber construction sectors, maximising community, economic and environmental benefits. The adoption of the UK first Wood Encouragement Policy in Powys is further demonstration of Powys commitment and leadership and is a shot in the arm for local businesses."
Why choose wood?


Wood is a naturally beautiful and adds character and warmth, but more than this it offers exceptional value for money, especially compared with other high quality materials. It also offers unique sustainable credentials – wood is a natural, renewable product. Here you can find out more on why to choose wood.
As the material choice for the circular economy, wood is a highly durable building material. Modern treatments mean that wood can resist biological degradation even longer, as well as locking in carbon. The long lasting nature of timber products makes them excellent value for money too. Properly maintained timber windows have in some instances lasted well over 100 years - the oldest surviving examples of sash windows were installed in the 17th Century at Ham House.
Our case studies bank looks at some of the best joinery projects made with wood. It showcases some of the most innovative and exciting opportunities that can be realised through the use of wood in your building projects.
Many of the case studies in the section have come from the BWF's Woodworking Project of the Year Award, recognising the best joinery projects, workmanship, and product innovation from across the industry.