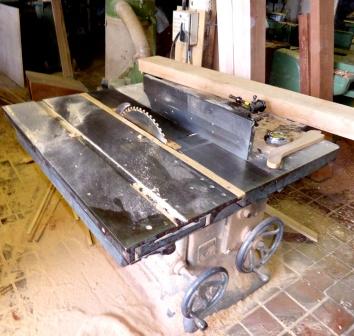 These morning and afternoon half-day events have been organised by BWF in partnership with Didac Ltd, as a way of helping businesses like yours to control these risks at your premises. Didac Ltd are independent instructors with extensive woodworking experience and will provide practical advice on controlling woodworking health and safety risks.

The two half day sessions will help give you the knowledge you need to help you to achieve the regulatory standards at your workplace that an HSE Inspector would expect to find during a visit to check your management of health and safety risks (such as the dangerous machinery pictured).

Morning and afternoon sessions will be held on:

- Controlling safety risks (machinery and braking)

- Controlling health risks (wood dust, noise and MSD)

- Training and supervision for woodworking

For more information and booking details visit http://www.bwf.org.uk/assets/booking-form-oct-2015.doc or www.didac.co.uk The HSE are currently into the third year of an inspection programme for woodworking premises, looking particularly at machinery safety and control of wood dust.

The Details

Date: Tuesday13th October 2015

Time: 9.15am-4.45pm
Morning - Registration & Exhibition 9.15am
Start time - 9.15am
Afternoon - Registration & Exhibition 1.30pm
Start time - 2.15pm

Venue: Advanced Machinery Services, Skeffington Mill, Uppingham Road, Leicestershire LE7 9YE

Cost: This is a subsidised event. Cost is £75.00 per person for BWF members (£100 per person for non-members), or £50.00 per person for BWF members (£75.00 non-members) if two or more attending from the same organisation. Excluding VAT

Attendees will be issued with a Certificate of Attendance and a range or resources.