Tony Pell, Chair of the Wood Window Alliance
The Background
It's now 10 years since the launch of the Wood Window Alliance, so it seems a good time to look at how our current campaign has evolved and what we're up to now. From the beginning, our aim was to reverse wood's declining share of the market, caused largely by the rise of PVC-u double-glazing. This was done by requiring high quality, performance and sustainability standards for membership, which allowed us a common standard against which to measure the claims that became the bedrock of what was initially a campaign aimed at specifiers, commercial clients and contractors.
In 2014, we changed the campaign emphasis to focus on the replacement sector. Although this meant addressing a far larger audience – homeowners - it brought two big benefits: a much bigger opportunity (over 60% of the total market) and access to the people who actually influenced the decision about what kind of window they wanted to live with. The message was mostly about desirability 'if you love your home, you'll choose wood windows' and aimed squarely at what we characterize as 'Waitrose woman' - relatively affluent and prepared to pay a little more for quality. This emotive approach was supported by our key facts, designed to provide permission to purchase: WWA windows last twice as long as PVC-u, are better long-term value, and are more environmentally-friendly. PR and social media were the two main channels, with social media becoming an increasingly important way of reaching a secondary target audience – younger professionals doing up their first or second homes.
2017 – Window on the World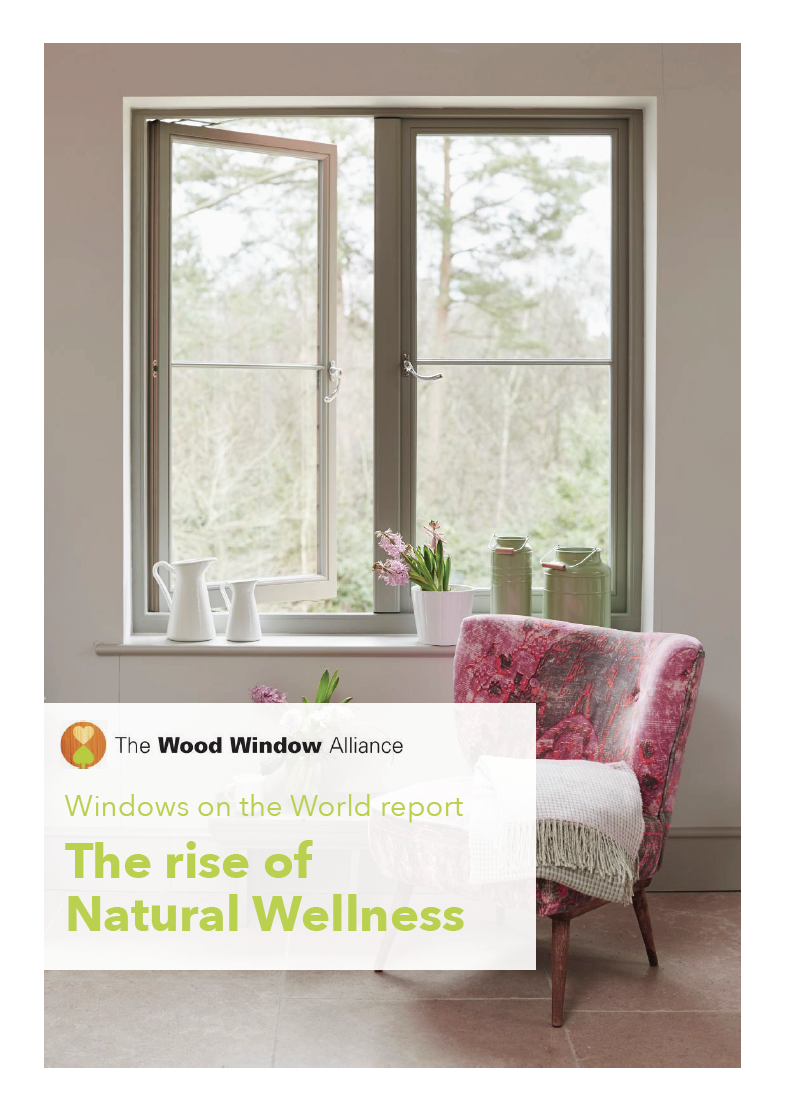 Right from the beginning, sustainability was an important message. But things got interesting last year, when there was talk of Biophilia – the positive effect things natural have on people; there was the Hygge (cosiness) trend from Scandinavia; and now Lagom (just sufficient). So we began to think about whether we could generate some press interest in wood's effect on people, as well as the planet, to get influencers talking about wood windows. For 2017, the PR agency came up with the idea of an authoritative lifestyle trend report, Window on the World, supported by consumer research and expert opinion from Biophilic architect, Oliver Heath. The report was divided into three chapters, to give the PR agency three opportunities to gain coverage, each with a different theme.
Chapter One 'The Rise of Natural Wellness' was launched at the end of April with a radio day hosted by psychotherapist, Corinne Sweet, which achieved coverage across 15 local radio stations. Coverage has also appeared in 14 magazines or portals, including Luxurious magazine, Self Builder and Home Maker, Abode, Period Ideas, Yahoo, House Beautiful and the Yorkshire Evening Post, with more to come, with a combined offline circulation of around half a million, and an online circulation of over 100 million.
Chapter Two, on replacing windows in period properties will be published in October; and the third chapter, on Colour, in the first quarter of 2018.
2017 – Fake Facts
While the planning for the Window on the World report was underway, members became aware of more frequent instances of misleading statements from PVC-u companies on their websites and on social media – particularly in the context of the new 'timber lookalike' window systems. It was agreed that, without detracting from the positive stories about wood, we needed to put the record straight – otherwise there was a danger that the Fake Facts would be taken as real.
We were aware that taking on the PVC industry was a controversial tactic, so went to great lengths to ensure we had our own facts straight and thoroughly corroborated.
First we commissioned, through the BWF, a Cradle-to-Cradle Feasibility study by SGS Search to check whether there were any hidden problems with the materials health of our own windows that might be exploited by competitors. The overall result was that our wood window would pass with flying colours, being eligible for a Silver certification.
Next we commissioned the Alliance for Sustainable Building Products (ASBP) to conduct an independent review of the existing evidence of the toxicity of PVC-u.
We then worked with the WWF to update their 2005 publication A Window of Opportunity with the latest research data.

Finally we created a Fake Facts video and infographic rebutting false and misleading claims about wood and PVC-u in three sections: People; Planet; Property.
The campaign launched in July on social media and in the trade press. There were over 90 posts on Twitter that included the hashtag #woodyoubelieveit, resulting in 162 engagements and over 51.8K total impressions. (And a lot more coverage that didn't have the hashtag). Key influencers and media repeatedly engaging with the #woodyoubelieveit campaign on Twitter, included:
Members (such as Arden, Bereco, George Barnsdale, Green Building Store, Heron Joinery, PDS, International Timber and Teknos)
Timber associations (CTI, Wood for Good, BWF)
Influencers (ASPB and Sustainable Traditional Buildings Alliance)
Trade Press (Glass and Glazing Products magazine)
Twitter Profile visits increased by 40% to 900 in July.
Trade press coverage included Woodworking News, Glass and Glazine Products, the Glazine, Modern Methods of Construction and Panels and Furniture Asia.

The BPF was piqued into a response, itself full of questionable facts, which we have ignored other than to contact Chesterfield Borough Council whose Capital Contracts Manager, Andy Grainger replied:

"I have spoken to our Communications and Marketing Manager regarding this quote. He had already been made aware of it and has contacted the editor to ask that it be removed. Chesterfield Borough Council do not endorse or recommend any contractors, suppliers or materials to outside organisations. We look at the specification and materials on an individual project by project basis, using both timber and PVC windows as best suited to our housing stock and individual property character. I apologise for any concern this may have caused you and hope to see the comment removed as soon as possible".
Most importantly, members are able to use the assets from the campaign on their own websites, in Social Media and in their own literature.
Have a look at the assets here:

2017 has been an incredibly productive year for us, and so much of what we have achieved – on a modest budget – has been down to our close relationship with the BWF, particularly in organising research and brokering alliances with organisations such as the ASBP and WWF.