1st April will herald major changes to the way woodworking businesses fund their training with new training registers and automatic grant payments part of a wide mix of CITB alterations which also include the removal of the need to submit training plans. If you pay and claim CITB Levy it is worth trying to get your head round the new rules as it will determine the type of training that you can draw down grant to support.
We thought it would be useful to reflect on why CITB have decided to implement grant reform, and put some focus on the new services that will support the Grant Scheme moving forwards, as well as helping employer members form a clearer picture on the use of new CITB services to help them undertake short duration training courses and claim grant (here you can also read CITB's latest update and explanations on its measures to improve training).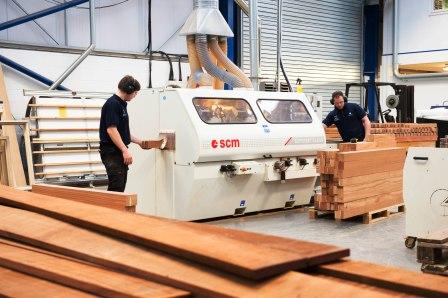 BWF is keeping a close eye on things and doing all we can to ensure that the core training you need meets the criteria - we will be on hand to advise, assist and rattle the odd cage if needed. Here we answer a series of FAQs, which we hope will be useful.

1) Why is CITB making these changes?
The Grants Scheme will continue to provide funding for apprenticeships, vocational qualifications, and approved short duration courses. Employers have said, however, that they want a Grants Scheme that is easier to understand, is simpler to access and supports training in core construction skills. A set of grant reform principles have been agreed with industry and these have been used to assess the training that will be supported by the Grants Scheme from April 1st 2018. CITB is hopeful that the reforms will ultimately cut down on paperwork and see training providers raise their game.

Short Duration Training
2) How will Grant Scheme reform affect short duration training?
Short duration courses are courses which last from 3 hours to 29 days that are focused on the core construction skills needed across the industry. CITB involved in creating a list of training standards which come into effect from April 2018. All training courses will be delivered to the defined standards, meaning an individual's skills will be transferable across the woodworking and joinery sector and wider construction industry in Great Britain. To enable this to happen, CITB is launching new services for both training organisations and employers.

3) What are the new services and what benefits will they provide?
These services will provide a single place for employers to:
search a construction training directory to find industry approved training
search a construction training register for their employee's training achievements
receive automated grant payments.

The Construction Training Directory
4) What is the Construction Training Directory?
The Construction Training Directory is a searchable online directory of construction training courses, tests and qualifications delivered by Approved Training Organisations (ATOs) to defined training standards that have been developed with input from industry. Employers can choose a provider based on location, price and timing, making it simpler to select a course that best meet their needs.

5) What are Approved Training Organisations (ATOs)?
ATO's are organisations delivering construction training courses and qualifications to a defined training standard, who have successfully completed the CITB approval process.
These could include commercial training providers, in-house training departments, and educational establishments.

6) What if my training provider is not on the Construction Training Directory?
If your training organisation is not on the Training Directory but you are booking courses with similar titles to the approved list of training titles, then there will be a transitional arrangement where you will be able to claim grant. This will only be in place on a temporary basis, until CITB are confident that all training organisations have had time to apply to be an approved training organisation. The detail on the transitional arrangement is still under development, and will be shared online through the CITB website once finalised.

7) What if the course I need is not on the Construction Training Directory?
If you believe a portable construction-related skill is not covered by the initial list of course titles, you will be able to submit details of the skill for review by CITB and Industry to determine grant eligibility. This will be managed online through the CITB website.

The Construction Training Register
8) What is the Construction Training Register?
The Construction Training Register is an online register that holds individuals' transferable, construction training courses and qualification achievements. Over time, it will build a comprehensive picture of skills training across Great Britain. Employers will be able to check the skills and competence of their workforce and new recruits, helping to confirm they have the right skills and improve productivity.

9) Will anyone be able to see my employee's record's and approach them with job offers?
No, the details on the register are not available for viewing without specific permission being granted by the individual record holder.

Automated Grant Payments
10) How will I get my automated grant payment?
On successful completion of a course, an Approved Training Organisation (ATO) will confirm the learner's achievement, upload the details onto the Construction Training Register, thereby triggering the automated grant process. This will speed up the payment process and remove the need for employers to complete training plans and unnecessary paperwork.

11) How many short duration training courses will I be able to claim grant for?
A cap will be set at 3 Short Duration courses per worker and will take into account the Sub-contractor workforce (Net paid sub-contractors for most employers; all sub-contractors in certain circumstances).
The total allowance will be available for the employer to use as they seem fit, e.g. if you have 10 staff (30 Short Duration Courses), then you could put all 10 staff through 3 courses each or 5 employees through 6 courses each. Any unused allowance will not be carried forward into future years.

12) What grant rates will apply for short duration training courses?
From April 1st 2018, the grant rates for the achievement of short duration training will be broken down into three tiers, determined by a set of CITB criteria.
Tier 1 - £30
Tier 2 - £70
Tier 3 – 120
The tier allocation for each course will be clearly identified against each course on the construction training directory.

13) Will supplementary grant payments continue to be made?
No, supplementary grant payments paid to employers in the past for submitting their Levy Return on time will stop from the new grant year starting from April 1st 2018. This is because it is only benefiting a minority of employers and the grant reforms are designed to reach as wide a pool of employers as possible.