Kevin Underwood, BWF Technical Director
With sustainability a key concern for customers and Brexit on its way, manufacturers need to be transparent about the environmental performance of their products and be able to meet EU standards
Developed in the 1960s but gaining momentum in the 1990s, life cycle assessments have been part of the building industry landscape for many years and are the most widely-used tool for assessing the environmental impact of products and services from design through to disposal.
Environmental Product Declarations (EPD), which emerged in 2012 to provide quantified environmental data for products, are effectively lifecycle assessments that have been verified by a third party. They present environmental information from lifecycle assessment studies in a common format, based on common rules, known as product category rules. To be comparable, each EPD must have been developed using the same rules – with all the relevant life cycle stages included.
In the UK, the leading environmental assessment methodology for construction materials and products is BRE's Environmental Profiles methodology, and it produces EPD that meet EN 15804, the European standard for the sustainability of construction products.
EPD are now widely-known within industry and more customers are starting to specify, but more needs to be done to encourage adoption by manufacturers. With the development of its online lifecycle assessment tool BRE LINA, which was launched in 2016, BRE has sought to make the process easier.
With traditional life cycle assessments, companies needed to employ a consultant to undertake the assessment and interpret the data, due to the complexity of the modelling process, software and applicable standards. BRE LINA puts life cycle assessments into the hands of the manufacturer, enabling companies and trade associations to assess their own products in line with EN 15804 in their own time and to access the results immediately.
The BWF adopts BRE LINA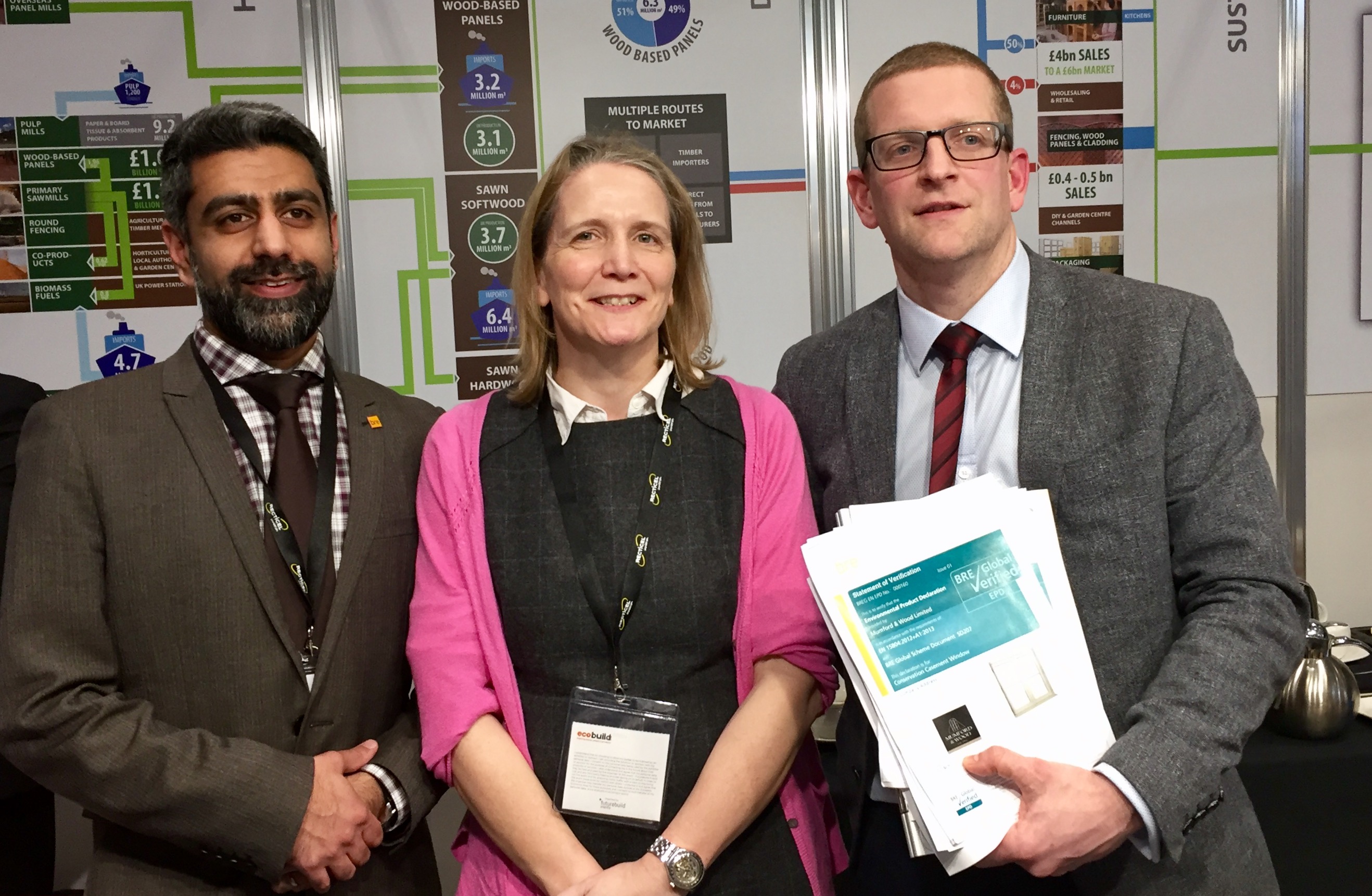 The British Woodworking Federation (BWF) wants the joinery industry to adopt life cycle assessments and EPD en masse in order to become a driving force for change across the building industry and so is adopting BRE LINA to do this.
Bespoke timber window manufacturer Mumford & Wood and joinery manufacturer JELD-WEN were the first of our members to produce a life cycle assessment and EPD using BRE LINA and we aim to build up a database of comparable products. Both members agreed to use a 1sqm casement window as a standard unit for the first life cycle assessments. As more are completed, the data will be used to benchmark and ultimately improve products.
How BWF members used the tool
All calculations within BRE LINA are made against specific rules, to give a value against the environmental impact for each stage in the process. The tool balances raw materials coming into the manufacturing process with products going out. For Mumford & Wood's and JELD-WEN's timber windows, materials in included timber, raw coatings and glass, while products out included completed windows and waste material.
The starting point for each of the raw materials is specified by BRE LINA so that it remains consistent across all products. For example, for timber the starting point is always the timber mill, close to the forest where the trees are felled.
Mumford and Wood use timber shipped from Siberia, Africa and Europe. Information outlining how the timber is transported from the forest, to the mill, and onwards to the UK via ship or air is collected.
BRE LINA also calculates energy requirements to drive machinery, water usage and gas usage. It takes waste streams into account, calculating how much goes to landfill, how much is recycled or reused.
Once all the data is collected and input into the model, BRE LINA allocates the costs, the energy and raw materials used to make one window of the model size. Initially, we were concerned that we would have to undertake complicated energy measurements. However, a guide is provided by BRE which makes the process very straightforward.
JELD-WEN buys its energy from multiple sources, has seven water metres and two factories, so data gathering was a slightly longer process. However, much of the data will already be collected if the company complies with environmental management standard BS EN ISO 14001.
When using BRE LINA, all the questions are available in advance. BRE provided a spreadsheet which we distributed to our members, enabling them to start collating data. Once organisations have collected the data, it is then very quick and easy to input it into BRE LINA.
In their own words: Mumford & Wood
The first to complete a life cycle assessment (see right) with BRE LINA was Owen Dare, technical director at Mumford & Wood.
"Initially, the requirements seemed daunting. There were a lot of questions to answer, covering all aspects of manufacture from water and electricity usage through to detailed information about our supply chain.
"However, it turned out to be much easier than we thought and the whole process only took a couple of days. Once you have this information it allows for the next product to be completed in less time and the process gets easier.
"We are constantly looking for ways to improve our processes. For example, we have recently changed the way we wrap our finished windows for delivery to reduce plastic usage. We've also invested in new window line machines which have low power start up and use less electricity.
"Life cycle assessments will give us further insight into our business, helping to make our manufacturing facility as efficient as possible, to reduce costs and use less energy."
"Previously life cycle assessments were too costly as we had to employ a consultant to undertake the work. But with the support of the BWF, we'll now be able to complete them for all our core products, using a straightforward online system.
"The industry has to improve and the only way to do that is with reliable, comparable data. However, we can't do this in isolation, we need all manufacturers to participate."
In their own words: JELD-WEN
Nick Bligh, technical manager at JELD-WEN describes his experience:
"There was a lot of initial work required to collect the information for the life cycle assessment, but once we had the data, BRE LINA was very intuitive and straightforward to use.
"We had to gather data from many different parts of the organisation; environmental and energy information, as well as manufacturing information. In larger organisations, it would be useful to appoint a key stakeholder to manage this process.
"Across the industry, we need to be more transparent about where our products come from and sustainability is a growing requirement for our customers. Many customers are starting to ask for EPD – but don't know exactly what they need. There's a requirement for greater education across the industry.
"In addition, manufacturers need to be able to interpret the EPD findings and benchmark against other companies. At the moment, we're not able to do this as we're still in the early stages, but once more data is gathered from more BWF members, we'll start to get some meaningful comparisons.
"The first step is to start using the software and to get used to the data collection requirements. By bringing the process in-house, manufacturers gain control over the whole life cycle assessment and EPD process, while also reducing costs. This will be increasingly important as EPD become a standard requirement for all products in the UK."
What's next for life cycle assessments and EPD?
As more customers ask for EPD before specifying products and materials, manufacturers need to be prepared to meet this shift in market demand.
BRE's online tool makes life cycle assessments more accessible and trade bodies should follow the example set by the BWF. Following Brexit, companies will still need to follow EU regulations and standards in order to trade and compete with European neighbours. By producing their own life cycle assessments, manufacturers are firmly in the driving seat. The data produced enables companies to benchmark their products against the industry average, and shows where improvements can be made and which changes will have the greatest impact.
As the momentum for life cycle assessments and EPD builds, we hope to reach a point where every manufacturer throughout the construction industry produces life cycle assessments and EPD using the same parameters. Only then will we be able to make meaningful comparisons across all products.
Building on our work to bring EPD into the mainstream, the BWF is pursuing broader initiatives in the environmental and wellbeing arena. We recently worked with SGS Search and the Wood Window Alliance to complete a feasibility study for a typical wooden window frame against the Materials Health elements of the stringent Cradle-to-Cradle Certified™ standard. In addition, the Wood Window Alliance has published a new report, The rise of Natural Wellness, outlining the importance of our homes to our health and wellbeing. These initiatives are a natural extension of our life cycle assessment work and demonstrate the growing convergence of health, wellbeing and sustainability within the built environment.
This article first appeared in www.building4change.com