BWF has launched a new e-learning platform which it plans to be the central hub for learning within the woodworking industry.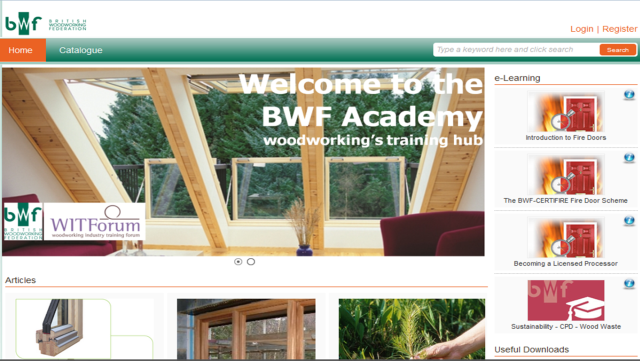 It was launched at UK Construction Week on the BWF's exhibition stand.
It the Academy features three new modules on Fire Doors which are to become an intrinsic part of the BWF-CERTIFIRE Fire Door and Doorset Scheme membership.
The fire door modules were created to help educate staff within member companies joining the scheme on the various facets of fire door manufacture and uses, although the introductory module provides knowledge that is useful to any individuals involved with fire doors.
The e-learning academy also houses all short CPD video resources that are part of the BWF's Health & Safety Hero Campaign, and other topics including sustainability, resource efficiency, and will soon feature a joinery estimating module, and number of modules adapted from the National Association of Shopfitters (NAS).
Collaborative creation is key to the Academy's development, with the NAS and the Structural Timber Association (STA) recently signing Memorandum's of Understanding with BWF, with training as one of the major priorities.
The software driving the Academy is also used by a number of other stakeholders within the sector, which allows BWF to share content to external e-learning academies where there is a need to push content further, and vice versa, the BWF can draw in relevant content from others using the same e-learning platform.
The Academy will also become the central hub for finding and booking courses, meetings, events and conferences run by the BWF, including being able to pay online.
Dave Campbell, BWF Head of Membership Services & Training, said, "the way people want to access learning is changing, and e-learning plays a crucial part in the mix when accessing training. It is a quick and easy way for individuals to keep up their life-long learning which feeds into our aim to get the whole industry involved with our Continuing Professional Development (CPD) programme".
Registering on the system is free, and can be accessed at elearning.bwf.org.uk